Loading....


The Augusta Fellowship is Auckland Grammar School's Wills and Legacy society. Membership of a Wills and Legacy society such as the Augusta Fellowship makes it possible for us to acknowledge and thank the benefactors during their lifetime.
To become an Augusta Fellow, the School needs to receive notification in writing from your solicitor. Membership of the Augusta Fellowship will be biennially acknowledged in the Ad Augusta magazine, with editions each May and October. An Augusta Fellow will always be a very special member of the Grammar Community. Please
click here
to see a list of Augusta Fellows. For the Auckland Grammar School Bequest brochure, please
click here
.
The origin of the name and insignia
The School's mission is embodied in our motto
Per Angusta Ad Augusta
, which translates to 'Through rough ravines to hallowed heights'. The name Augusta Fellowship was inspired by these words. The logo of the Fellowship - a golden lion within a scroll - sees the lion representing Auckland Grammar School and the scroll a legal document such as a will.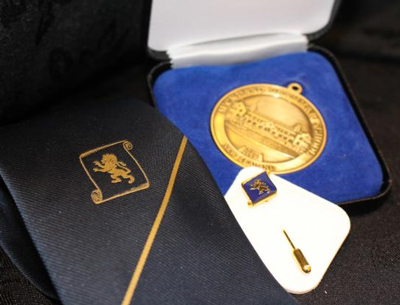 All fellows are presented with a Fellowship tie and dress pin (pictured above), featuring this unique logo as well as a commemorative medal.
Annual Augusta Fellowship Luncheon
Each year, Augusta Fellows and their partners are invited to a luncheon where the School can acknowledge their generosity.
The 2017 Augusta Fellowship Luncheon was held on Wednesday 11 October in the Old Boys' Pavilion. Each year a guest speaker is invited and previous speakers have included prominent businessman Sir Ron Carter '48 and author and broadcaster Bill Francis.
This year, guests heard from Headmaster Mr Tim O'Connor, Head Prefect Lachlan Grant and Chairman of the Foundation Trust, Mr Jack Porus. There were also a total of six new Augusta Fellows - Mark Armstrong '55, Derek Batts '50, Grahame Brown '47, Max Brown '51, Robert Eady '50 and John Hornibrooke '46.
Click here
to view the photos from the 2017 Luncheon.
This event, which has been held annually since 2004, has proved to be one of the highlights on the School's calendar.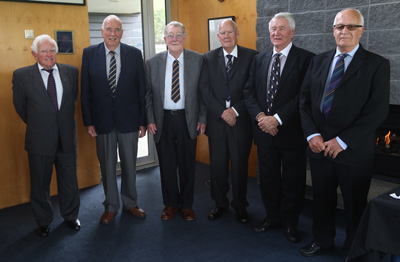 Our newest Augusta Fellows - from left: Grahame Brown '47, John Hornibrooke '46, Max Brown '51, Mark Armstrong '55, Derek Batts '50 and Robert Eady '50