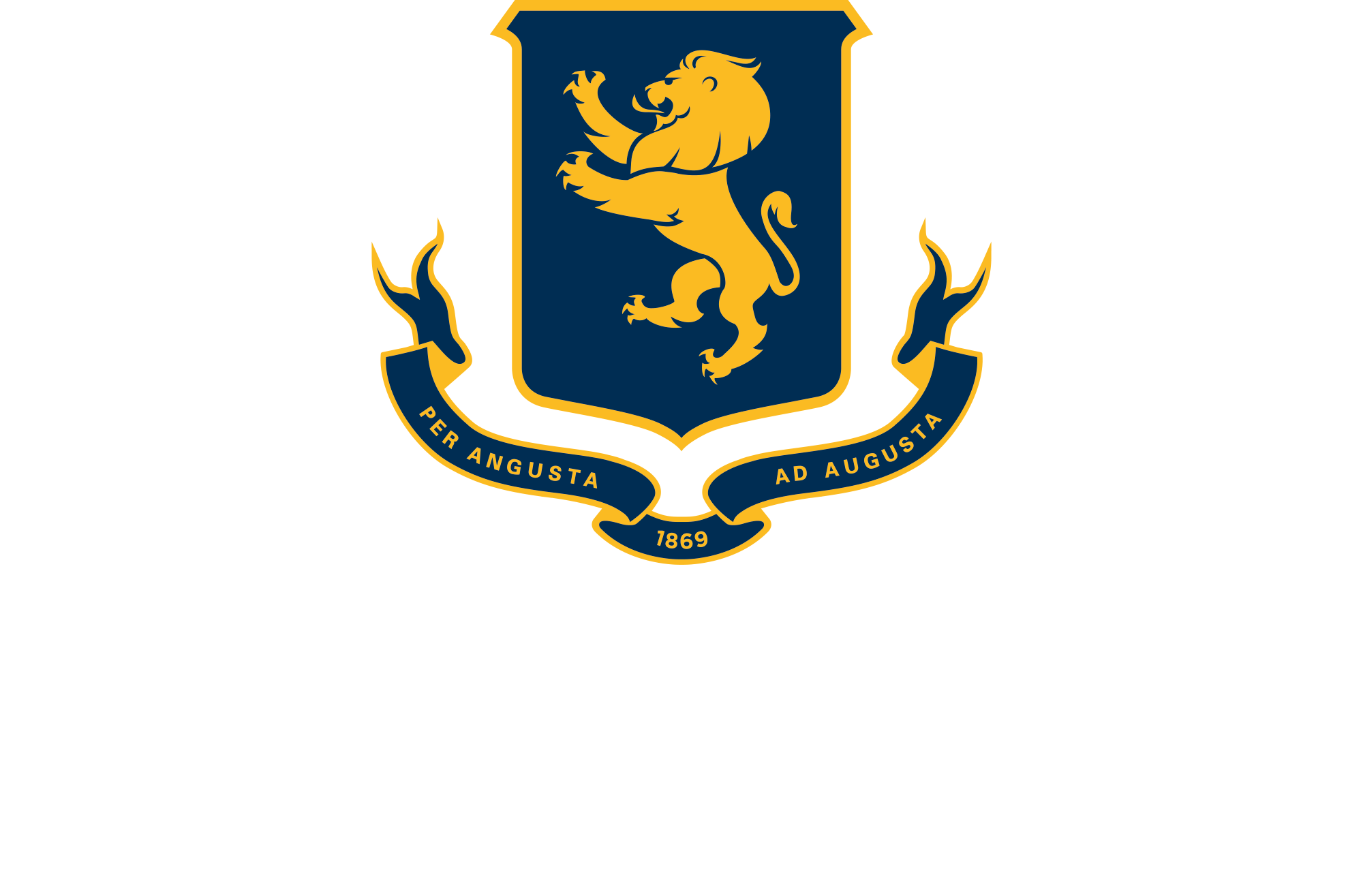 The Augusta Awards
The annual Augusta Awards evolved from the Association's Old Boy of the Year Award. These awards are given to Old Boys who are at the top of their respective industries or specialties, or who have demonstrated a remarkable contribution to the fields of Arts, Business, Sport and/or Public Service. The awards recognise Old Boys who have made a significant contribution in their chosen field, who have made a positive impact in their field throughout their careers, and have used their talents to encourage and inspire others to follow their lead.
There are two awards: the Augusta Award and the Lion Award. The Augusta Awards are for Old Boys who have achieve at the highest level in their chosen career or profession; or through their achievements made an outstanding contribution to or demonstrated leadership in their profession, their community, New Zealand or the world. Award categories are Academia, Arts, Business, Service and Sport.
The Lion Award is for a younger Old Boy who, at an earlier stage of their career, are demonstrating leadership and/or remarkable achievement for their age. Early achievement may include attaining a national sporting achievement, being a senior executive or director reaching partnership in a notable professional service.
We are now accepting nominations for the 2024 Awards. If you know someone who you think is a suitable candidate for either award, please submit your nomination by filling in the online form here. Ensure that you send supporting information or other documents to agsoba@ags.school.nz.
2023 Augusta Award recipients
The 2023 Augusta Award recipients are Uluomato'otua (Ulu) Aiono '68 ONZM, Dr Osmond Bruce Hadden '55 CNZM and Professor Philip Hill '81.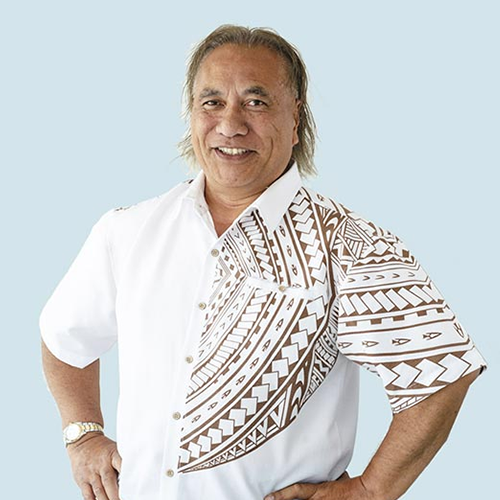 ULUOMATO'OTUA 'ULU' AIONO '68 ONZM
ULUOMATO'OTUA 'ULU' AIONO '68 ONZM
Born in Samoa, Ulu and his family travelled via boat to start a new life in New Zealand when he was young. After five years at Auckland Grammar School, maintaining a place in the top class throughout his tenure, Ulu went on to become New Zealand's first Pacific Islander to graduate with both a Bachelor of Computer Science (which he completed in 1981) and a Master of Business Administration (MBA), both from the University of Otago.
In 1983, while he was finishing his MBA, Ulu founded high-tech company COGITA, growing it into the largest business in its niche in the world. Specialising in resource planning software, the company was sold to a Silicon Valley software giant in 2012.
Ulu has been involved with many worthy initiatives such as Habitat for Humanity, and has been Chairman of the Cause Collective and the Alliance Health Plus Trust, New Zealand's only Pacific-led Primary Health Organisation. He has also been a member of council for both AUT and Manukau Institute of Technology.
In September 2022, Ulu was inducted into the New Zealand Business Hall of Fame. At the time, Pro Vice-Chancellor Commerce Professor Robin Gauld said the awards ceremony is an important event for the business community.
"The impact and presence of our graduates was very evident at the event, with many of New Zealand's business leaders in attendance being Otago graduates. It was a proud time for the Commerce Division and the University.""
DR OSMOND BRUCE HADDEN '55 CNZM
DR OSMOND BRUCE HADDEN '55 CNZM
Bruce is one of the leading figures in ophthalmology in New Zealand and Australia. Having trained in New Zealand and the United States, Bruce has been active in the field for more than 50 years. He introduced vitreous surgery to New Zealand, which is the dominant technique for surgical repair of retinal detachment. He also led the amalgamation of the Ophthalmological Society of New Zealand with the Australian college, to form the Royal Australian and New Zealand College of Ophthalmologists.
From 1996 to 1999, Bruce and his wife Dr Wendy Hadden contributed substantially to the fundraising for the Foundation Chair in Ophthalmology at the University of Auckland. This culminated in the appointment of Professor Charles McGhee as the Foundation Maurice Paykel Professor of Ophthalmology in 1999.
Bruce has kept close ties with the University of Auckland through benefaction and time commitments, and supported the Foundation of the W and B Hadden Chair in Ophthalmology and Translational Vision Research in 2005, strengthening laboratory and clinical research activities within the department, the University and hospital.
Bruce was awarded an Honorary Doctor of Laws (LLD) by the University of Auckland in 2007, and was made a Companion of the New Zealand Order of Merit (CNZM) in 2012 for services to ophthalmology.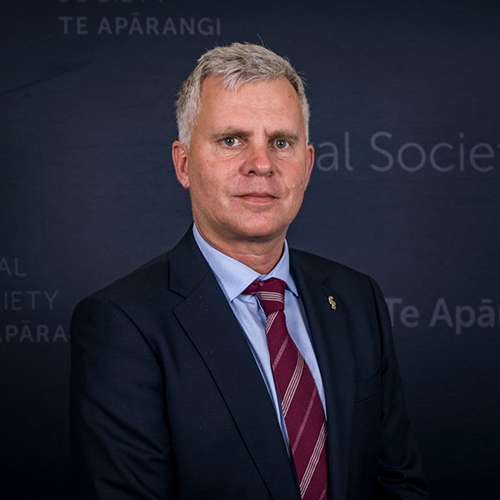 PROFESSOR PHILIP HILL '81
PROFESSOR PHILIP HILL '81
Philip holds multiple qualifications from the University of Auckland, including a Bachelor of Human Biology, a conjoint Bachelor of Medicine and Bachelor of Surgery, a Masters of Public Health (completed with first class honours) and a Doctor of Medicine.
After completing his specialist training in New Zealand as a medical practitioner, a specialist public health physician and a specialist infectious diseases physician, Philip spent six years working as a clinical epidemiologist at the Medical Research Council unit in The Gambia, working on tuberculosis and pneumonia projects.
His research has been published in nearly 250 articles in peer reviewed journals, and includes studies on Mycobacterium tuberculosis infection and disease, Streptococcus pneumoniae carriage, disease and vaccination.
Philip is the first holder of the McAuley Chair in International Health and is the Founding Director and Co-Director of the Centre for International Health at the University of Otago. In addition to this role, he is involved in different research projects in Africa, Asia, South America and the Pacific, and is the Adjunct Professor in the new Communicable Diseases Research Centre at the Fiji National University, spending time there to help build the new centre.
In 2008, Philip established the Otago Global Health Research Network, with more than 100 researchers across all four divisions of the University, with an interest in health research in low and middle-income countries. Now renamed the Otago Global Health Institute, Philip is currently Co-Director, and has become one of 12 flagship research centres within the University.
Philip takes a special interest in training people from low resource settings at Masters' and PhD level, supervising over 30 students who have had a very high completion and publication rate.
During the COVID-19 pandemic, Philip served on four ministerial advisory committees, leading key reports on the performance of the Ministry of Health and recommendations for improvements to protect New Zealanders. These were in relation to contact tracing and the testing strategy implementation.
Philip has also served as chief advisor to the University of Otago Vice Chancellor and in 2022, he was elected to be a fellow of the Royal Society of New Zealand.
2023 Lion Award recipient
The Lion Award seek to acknowledge younger Old Boys who, at an earlier stage of their career, are demonstrating leadership and/or a remarkable achievement for their age. The award recognises Old Boys who demonstrate outstanding leadership, integrity, excellence, respect, courage, pride, commitment and humility, and are in early or mid-career, and the 2023 recipient is Aaron Gate '04.
An Olympic medallist and six-time Commonwealth Games medallist, Aaron has represented New Zealand in Road and Track Cycling at the 2012, 2016 and 2020 Summer Olympic Games. He won the Bronze medal in the Men's Team Pursuit at the 2012 Olympic Games in London alongside teammates Sam Bewley, Wesley Gough, Marc Ryan and Jesse Sergent.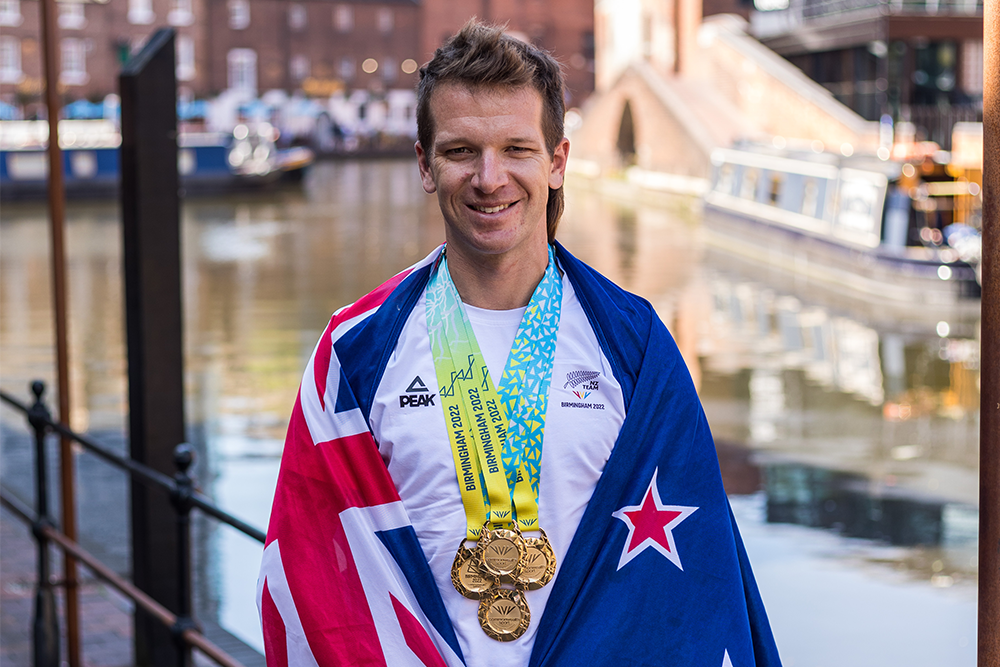 At the 2016 Olympic Games in Rio de Janeiro, the Men's Team Pursuit consisting of Aaron, Pieter Bulling, Regan Gough and Dylan Kennett finished in fourth place, after being beaten by Denmark by a margin of just three seconds for the Bronze medal.
Aaron had to overcome adversity when he competed in the Men's Team Pursuit at the 2020 Olympic Games in Tokyo (which took place in 2021 due to the COVID-19 pandemic). During the race for Bronze against Australia, Aaron clipped teammate Jordan Kerby's rear wheel, causing him to crash on the track and fracture his collarbone. He had to withdraw from the rest of the Games, missing the Madison and Omnium events.
Aaron won his first road national title prior to the 2020 Olympic Games, by winning the New Zealand Championships by just 0.7 seconds over George Bennett in second place.
Coming back stronger, Aaron made history as the first New Zealand athlete to win four Gold medals at a single Commonwealth Games at the 2022 Games in Birmingham (pictured), where he won the 4000m Individual Pursuit, the 4000m Team Pursuit and the 40km Points Race on the track, and the 160km Road Race.
In August, Aaron secured three medals (two Bronze and a Gold) at the 2023 UCI World Championships in Glasgow, contributing to New Zealand's overall medal tally of eight, their highest ever.
2022 Augusta Awardees

Due to the COVID-19 pandemic, no awardees were announced in 2022

2021 Augusta Awardees

Dr Jock Carnachan MNZM '59
Dr Robert (Rob) Kirkpatrick '64
Robert (Bob) Narev ONZM, MNZM '50
Grammar Lion Award recipient - Kyle Jamieson '08

2020 Augusta Awardees

Ian Bissett '68
Mark Burgess '58
Greg Cross '72
Grammar Lion Award recipient - Dr Henry Wong Doe '90

2019 Augusta Awardees

Alan Galbraith '57 QC
Dr Alastair MacCormick '57
D. Scott Milne '69
Peter Thompson '76
Grammar Lion Award recipient - Fady Mishriki '95

2018 Augusta Awardees

Stephen Jacobi '73
Professor Richie Poulton CNZM '76
The Honourable Justice Lyn Stevens QC '60
Inaugural Grammar Lion Award recipient - Anthony Hoy Fong '91

2017 Augusta Awardees

The Honourable Sir Roger Douglas '51 - Service
Don McKenzie CNZM, OBE '55 - Service
Roger Moses ONZM '68 - Service
Eugene Paykel '47 - Academia

2016 Augusta Awardees

Sir Michael Friedlander CNZM, KNZM '49 - Service
Emeritus Professor David Gerrard CNZM, OBE '58 - Sport, Service and Academia
Emeritus Professor Murray Meikle '52 - Academia

2015 Augusta Awardees

Dr Harold Coop '47
Professor Digby MacDonald '57
Ian Narev '80

2014 Augusta Awardees



John Barnett ONZM '59 - Arts
Dr Nigel Evans '53 ONZM - Service
Sir Christopher Mace CNZM '55- Business
Professor Peter McNaughton '62 - Academia

2013 Augusta Awardees



Dr Raoul Franklin CBE '48 - Academia
Professor Alan Kirkness '54 - Academia
Greer Twiss '52 - Arts

2011 Augusta Awardees



Sir David Baragwanath KNZM '54 - Service
Sir James McNeish KNZM '44 - Arts
Bruce Plested '55 - Business
Andrew Simester '80 - Academia

2010 Augusta Awardees



Howard Harper '44 - Service
Professor Cedric Hassall '33 - Academia
Victor Percival ONZM '43 - Business

2009 Augusta Awardees



Denis Feeney '68 - Academia
Max Gimblett ONZM '50 - Arts
The Right Honourable Sir Duncan McMullin '40 - Service

2008 Augusta Awardees



Gus Fisher ONZM '35 - Arts and Business
Sir Patrick Eisdell Moore '30 - Service
Mark Warner '65 - Academia

2007 Augusta Awardees

Professor Peter Hunter '62 - Academia
The Honourable Peter Watson ONZM '66 - Service

2006 Old Boy of the Year

Professor Sir Graham Liggins '39

2005 Old Boy of the Year

Hamish Carter ONZM '85

2004 Old Boy of the Year

His Excellency, the Rt Hon Sir Kenneth Keith ONZ KBE QC '51

2003 Old Boy of the Year

Professor Sir Hugh Kawharu ONZ FRS (NZ) '40